Dedicated burr-removal experts are placed in our manufacturing process. For various products, we ensure 100% burr-free high-quality cross hole drilling
We were first to recognize the problem of burr formation which is unavoidable in a cross hole drilling process and requires manual removal. We assign expert engineers in charge of burr removal in the manufacturing process and ensure a perfect burr removal and a strict check. Our quality assurance omits a product inspection by users. Also, we, together with other companies and a university, have joined in a cooperative study on the burr formation mechanism to accumulate control and removal know-how.
We realized drilling of a micro cross hole of φ0.4 diameter through stainless steel. Our expert staff completely remove formed burrs
We can conduct a precision cross hole drilling; for example, can drill a micro φ0.4 hole in stainless steel and punch a φ2.3 hole which crossed the path of another at a 20-degree angle.
Furthermore, we have qualified personnel as expert engineer with a high-level burr removal skill through our in-house tests. Only qualified staff conduct a thorough check and product inspection using appropriate microscopes to ensure 100% burr-free quality.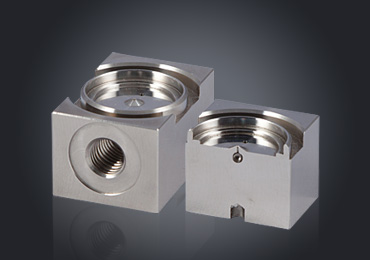 Improve tools dedicated to remove burrs effectively according to burr material, positions, conditions, etc.
Considering burr material, positions, and conditions such as burrs formed on an inner diameter hole or cross hole, minute burrs, solid burr on stainless steel requiring rough removal, we will improve a dedicated tool.
We can effectively remove burrs which might remain with a commercial tool, and finish high-quality products.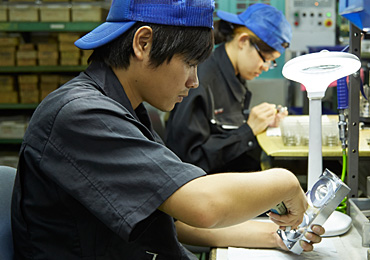 We give a 100% burr-free assurance for cross-hole. Our customers do not have to conduct a product inspection
Our complete assurance for burr-free processing enables you to assemble a product without an inspection. Also, we offer packing services for you and can ship/dispatch our products to the end users on behalf of you.
Dedicated staff pack the products one by one carefully to protect the products from damage during transportation as mush as possible. We realize a much shorter delivery time and reduction in total cost including shipment cost.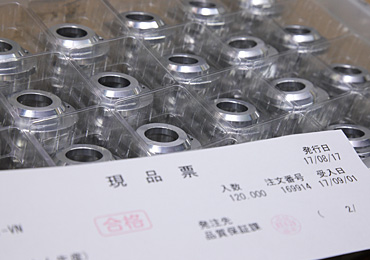 We have joined in Japan's leading study group working on burr processing to improve technical skills to control and remove burrs.
We have participated in Japan's leading study group working on burr processing (Burr Tech) from the beginning. Other members are companies and a university. In the study group, we are sharing information about the latest deburr techniques and accumulating know-how from factory workers. Additionally, in terms of physics, we use technologies to basically reduce or prevent burrs to perform a high-quality burr-free processing.