Launched a high-performance washer for parts manufacturers developed by a parts manufacturer to increase its productivity
Nakano Manufacturing's product, Senjo Komachi, is a water-based compact parts washer. We, as a parts manufacturer well acquainted with actual manufacturing processes, developed it to improve our productivity. From a professional manufacturer's view, we actively pursued better efficiency and functions of the washer to increase work efficiency.

Dedicated attachments designed for shapes of parts and multiple nozzles appropriately positioned realize powerful cleaning and speedy drying. Also, its compact design fits in a small space beside a processing machine and enables users to boost manufacturing line's productivity.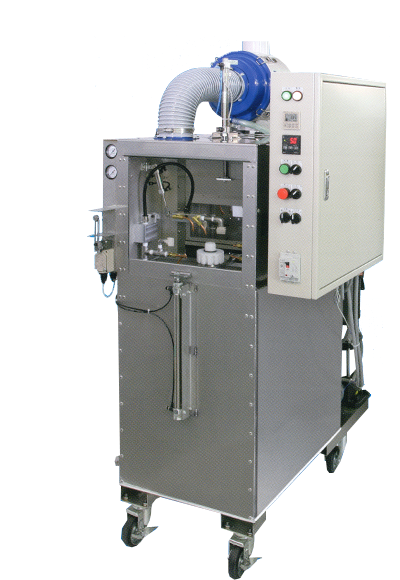 Speedy drying
33

seconds

The process time to complete washing and drying cycle for one piece of work is 33 seconds*, ensuring really speedy drying. (*depending on parts shape)
Twin-tub
We adopted a twin-tub design with separate washer and dryer tubs. After washing and rough drying in the washer tub, work is carried into the drying tub where air pressure of the nozzles blow off water drops on the surface of work rotating at high speed. The twin-tub system prevents dripping of detergent from a ceiling or nozzles of the machine in the drying process, leading to a significant improvement of drying performance.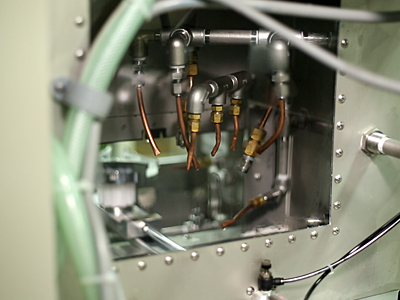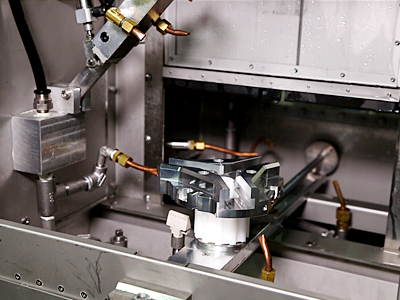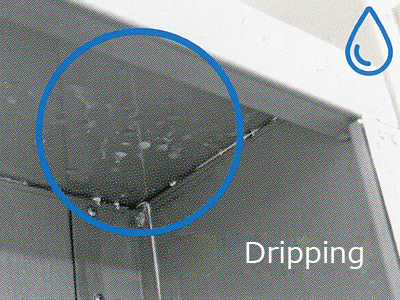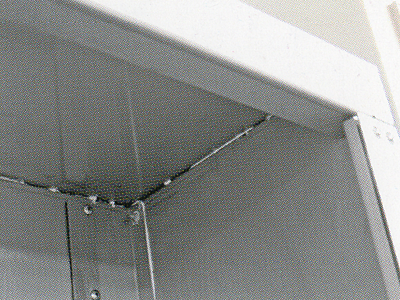 Dedicated attachments
Dedicated attachments are designed and made based on shapes of parts, which hold work piece tightly and release it easily. Powerful air blow rotates work at high speed and can remove detergent residues completely.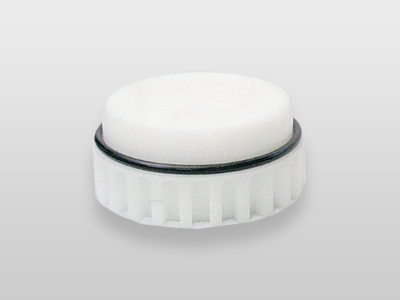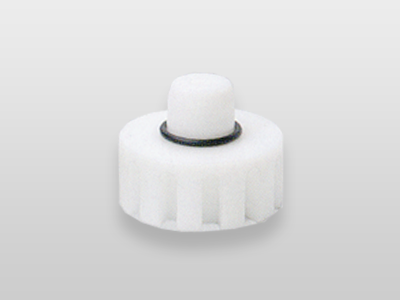 Dedicated nozzles
Multiple nozzles are arranged per work. Setting the most effective arrangement of the nozzles provides a high quality drying.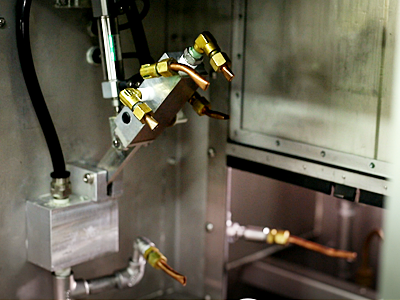 Powerful

wash

The machine meets a strict residual contamination standard required for parts used in the automotive industry. With a dedicated attachment which holds work, the unit starts high pressure washing using a unique injection rotation system*. It can remove dirt completely. (*Patent pending)

By customizing the position of multiple nozzles based on a shape of work, you can achieve more effective washing.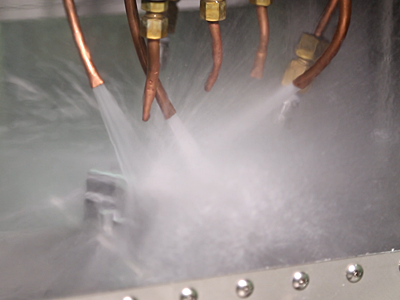 Compact

&

lightweight

design

In spite of its twin-tub structure, the compact-size unit can be inline mounted in a small space beside a processing machine. Without a fundamental change of the facility layout, you can mount the washer.

Furthermore, the machine is equipped with lightweight and useful casters which allow easy movement without much labor.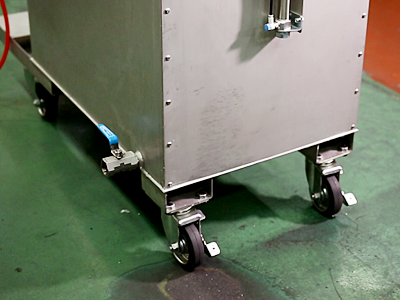 25

% cost reduction

Using advantage as a parts manufacturer, we realized a significant cost reduction by about 25%, compared to the price of competitive products with similar performance. Also, we deliver a semi-custom-made unit by optimizing the system according to individual customers' needs.

Keys

Using technical skills inherent in parts manufactures,
we can produce the washer parts.

The injection rotation system adopted to rotate work
reduces the number of components.
35

% energy saving

Energy usage of competitive products with similar performance is 10kVA. On the other hand, that of Senjo Komachi is saved by 30% to 7kVA, thanks to its injection rotation drying system and simple design.
Simple

&

user-friendly

operation

Dedicated attachments can be changed and set up only within 2 seconds. They are also suitable for low-volume high-variety production. Also, the liquid level of detergent is detected with a sensor, which prevents heating without sufficient liquid (abnormal temperature) and idling. A heater with calendar function can preheat detergent, allowing the unit to run right after the commencement of a day's work.
We adopted a flexible rod switch for easy activation. From a worker's point of view, we are pursuing better operability.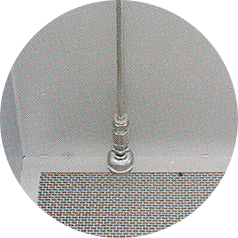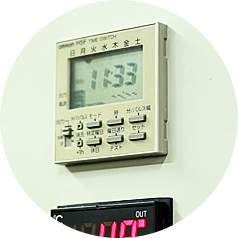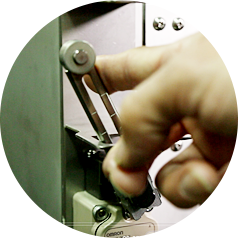 Advantage of Senjo Komachi among shower washers
Among shower washers, Senjo Komachi is suitable for a single work piece and can dry parts speedy with its twin-tub structure. Also, with its space saving design, it can be inline mounted within existing processes.

Shower washer comparison
Senjo Komachi has a lot of distinguished features other shower washers do not have. Cycle time is reduced by speedy drying, and its twin-tub structure separating washing and drying processes shuts out water drops. Pinpoint washing is achieved with its flexible nozzles. Furthermore, its simple air rotation mechanism contributed to a significant cost reduction. Its space saving design realizes inline installation. The product is suitable and show the best performance, in specific, for washing and drying of small parts weighing less than 1kg.
| | | | | | |
| --- | --- | --- | --- | --- | --- |
| | Senjo Komachi | Spin | Chamber | Rotary | Multi-tub |
| Washing capacity | ○ | ○ | ◎ | ○ | ◎ |
| Drying capacity | ◎ | ○ | ○ | △ | ◎ |
| Cycle time | 33 sec | 45 sec | 60 sec | 20 sec | 2-3 min |
| Structure | twin-tub | one-tub | one-tub | three-tub | four-tub |
| Shape of work | single/specific | multiple shapes | multiple shapes | wide variety | wide variety |
| Nozzle | Flexible | Fixed | Fixed/td> | Fixed | Per specifications |
| No. of pcs. washed | 1 pc. (*1) | 1 pc. (*1) | 1 pc. (*1) | Several | A lot |
| Max. work size | φ200×50H | φ200×150H | φ250×250H | φ350×250H | Large size available |
| Max. weight | 1kg | 10kg | 10kg | 10kg | Large size available |
| Washing pressure | 0.6-0.8MPa | 0.6-0.9MPa | 1.3MPa | 0.8MPa | Per specifications |
| Rotation mechanism | Air | Motor | Tilt | Table | Per specifications |
| Installation cost (yen; *2) | 2.98 million approx. | 4 million approx. | 6 million approx. | 6.5 million approx. | 10 million |
| Installation space | Smallest | Small | Medium | Medium | Large |
| Inline availability | ◎ | ○ | △ | △ | × |
*Depends on work   *2 Except transportation/custom order costs
Senjo Komachi Q&A
The following is frequently asked questions and our answers in relation to Senjo Komachi. Click each question, and you can see the answer.
<About Senjo Komachi>
A

An industry's smallest size and high drying capacity. These strengths enable washing and drying processes to be included the manufacturing line of mass production parts, which leads to production capacity improvement and labor & space saving.
Q

What type of products can be washed?

A

It is designed to be used mainly for a parts manufacturing line of parts manufacturers. For parts materials, it can deal with metallic, resin, or other various materials. The maximum load capacity is basically less than 1kg and maximum size is less than φ200 x H50.
Q

Can it deal with low-volume high-variety production?

A

Basically, the product deals with a single specific item. But it may be applicable for items with a similar shape, size, and weight.
Q

What washing type is adopted?

A

Shower washing with multi-staged pumps. Washing pressure ranges between 0.6 and 0.8Mpa.
Q

To what extent can it wash?

A

The product fully meets a strict residual contamination standard required such as for engine parts used in the automotive industry, and has good adoption results; e.g., grain size of up to φ0.6mm, weight of up to 1mg.
Q

Does it have a drying function?

A

Yes. One of its features is that such a compact-sized machine has a twin-tub structure separating a washing tub and drying tub. It solves a problem like, "a water-based washer may have a low drying capacity."
Q

What type of drying is adopted?

A

The room temperature-air blow drying is adopted. To increase its drying performance, we specify the detergent temperature around 40 to 50°C.
Q

To what extent can it dry?

A

It depends on a shape of work piece or expected cycle time (drying), but for work pieces washed and dried by Senjo Komachi will not require manual blowing in downstream processes. We assure you will satisfy its drying performance. Please confirm it at the time of a performance test.
Q

How does it deal with water stains caused by water dripping after the drying process?

A

The water stains are mostly caused by water drops particularly from washing nozzles, but Senjo Komachi takes adequate measures. In its unique twin-tub structure, much of waters on work surface are blasted out in the washing tub and not carried into the drying tub, which has any washing nozzles.
Q

How does it remove foreign matters (filter, etc.)?

A

Larger foreign matters will be removed wire mesh before a pump suction inlet. Smaller particles will be captured by a filter before a washing nozzle.
*Standard filter pore size is #20μm.
Q

What should we prepare to introduce Senjo Komachi?

A

Please prepare a compressor air (400L/m) and a power (200V). The product has casters and movable, so it can be arranged easily.
Q

Can I install it in an automatic line?

A

It can output necessary signals to the exterior. Please feel free to contact us.
Q

What is the difference between the product and ultrasonic washer?

A

Ultrasonic washers are mainly suitable for degrease or other finish cleaning purpose. However, hydrocarbon cleaner used for these purposes requires careful handling because its use is regulated by the Fire Service Act and other applicable laws. On the other hand, shower (spray) washers including Senjo Komachi are suitable for in-process cleaning such as removing dirt, contamination, and cutting fluid.
<About cleaning agent>
Q

What type of detergent can be used in Senjo Komachi?

A

Most of water-based cleaning agents are applicable (bromine-containing or hydrocarbon-based agents are not applicable). Recently, water-based detergents have become dominant because of applicable laws and regulations. In addition, compared with other water washers, Senjo Komachi has a much better drying ability, which is generally a weakness of water washers. So, how about adopting water-based cleaning agents?
*We can propose a plan including blended cleaning agents.。
Q

Will you arrange specific cleaning agents as well as the washer?

A

We can select and supply you a suitable detergent in cooperation with a partner detergent manufacturer. If no appropriate commercial detergent can be found, we will prepare an original detergent.
Q

How should waste liquid be treated?

A

To discharge waste fluid from Senjo Komachi, you should do either of the following: 1) to drain waste fluid from the waste bulb at the bottom of the tank; or 2) use a suction pump and remove waste fluid from the tank. As other cleaning agents, waste liquid of water-based cleaning agents must be managed properly in compliance with applicable laws and regulations. You have to prepare a manifest for a specific industrial waste collector to deal with the waste water.
<About checkup>
Q

How should we do daily checkup?

A

Please check the following from the display meter.

[1] Liquid pressure
Check the pressure gauges at the both sides of a filter in daily checkup. When the gauges show a pressure difference, the filter is clogged. The filter needs to be changed regularly to ensure consistently good washing results. *Use commercial filters.

[2] Liquid concentration
Liquid concentration influences on washing results. Control concentration to a fixed range per detergent type.
*We adopted a titration among other analysis methods to determine concentration.

[3] Detergent impurity
Even with a filter, detergent itself becomes gradually contaminated in daily use. Check regularly the condition of detergent.

[4] Detergent liquid level
When the liquid level is below the critical level, the level switch will be automatically activated to stop operation to prevent the heater from heating without fluid or the pump from idling. Ensure the liquid level is sufficient before operation.

[5] Detergent temperature
A heater used for a long time could get out of order. Check the heater temperature display to ensure that a temperature is within the prescribed range.

[6] Unsteadiness of work set on the washer
The more an attachment wears out, the more work is unsteady during its rotation, which leads to lower washing/drying results and even to work dropping off. Replace the attachment to new one.
*We sell attachments separately.

[7] Air pressure control
Check the air pressure gauge. A lack of sufficient air pressure causes lower drying performance.

[8] Multi-staged pumps
Check the pressure gauge at the source of pressure. A lower pump performance leads to a lower main pressure, causing lower washing performance.
Q

How should the amount of contaminants be measured?

A

There are several options and we adopted the following two methods:

[1] Weight
This method evaluates the weight value of contaminants or particles. Procedures are as follows: the subject is washed in an ultrasonic washer using examination medium, and then contaminants are captured in the solution; the solution is then air purged and filtered through a test filter; the weight of the filter is measured with an electronic scale.

[2] Size (area)/number of particles
This method uses the above filter with contaminants. The filter is imaged by a camera and then the image is processed to obtains a length, area, and the number of contaminants.
Q

How should the detergent concentration be measured?

A

There are mainly two options and we adopted the titration method:

[1] Titration
This method uses an indicator and check visually points of color change as dropping N/10 acid solution. It is relatively accurate without an influence of oil dirt, but requires techniques and experience to some extent.

[2] Refractive index
This is a simple and easy measurement method which uses a sugar hydrometer (Brix scale). However, for used fluid, contaminants other than detergent will be mixed, leading to a higher refractive index and lower accuracy than results of the titration method.
<Other questions>
Q

Do you sell any other washer?

A

At present, we offer only Senjo Komachi but we will customize the product flexibly according to individual customer's operating environment. Please feel free to contact us.
Q

Do you perform all of developing and manufacturing processes of the washer?

A

Manufacturing of some of particular jigs is outsourced but we have designed and created our products by ourselves. Using advantage as a parts manufacturer, we can make components of the washer. It is a key to produce Senjo Komachi at low cost.
Q

Will you conduct a trial washing?

A

If we have judged Senjo Komachi would work well after a detailed meeting with you, we will keep your work pieces and conduct a trial washing using a demonstration model.
Q

Will you lend a demonstration model?

A

We can lend a demonstration model after a trial washing.
*Basically within 1 month.
Q

How is your maintenance service?

A

Our engineering staff are available during business hours: 9:00-17:00 (Except Saturdays, Sundays, and national holidays). We will hear your problem to begin with, and send replacement parts if required. Parts structures are simple so that users can carry out maintenance on their own. Actually, after replacement parts were delivered, most of the users replaced the parts according to our guidance by phone. On-site service is available for a charge.
Q

Can I purchase Senjo Komachi directly from you, or from a particular agent or trading company?

A

We offer our product directly and have not used distribution agent or trading company. If you are using a particular trading company, we may arrange for that.
Q

Can you deliver the washer wherever in Japan?

A

Yes. We assure that our engineering staff will attend the delivery.
Q

Do you have country-wide sales branches?

A

At present, our sales office is in Osaka. We assure that our staff will visit our customers all over the country.
Q

Have you ever sold the washer to foreign countries?

A

At present, the product is for domestic trade only.
Professional support using part manufacturer's expertise
We provide meticulous support to meet production needs using advanced technical skills of a professional parts manufacturer.

Appropriate attachment setting
We design and create an attachment suitable for a shape of work piece you need to wash. Attachments we produce will not damage parts, and enable easy washing and speedy drying.

Optimal cycle time proposal
We analyze a tact time of your production line, plan process time to complete washing and drying based on the result, and propose the optimal cycle time.

Secure support after installation
We first provide a functional description and operational instruction at the time of installation of the washer. You can be rest assured of our technical support from parts machining engineers after introduction of the product.
NS-6K product specifications
| | |
| --- | --- |
| Work dimensions | Max. φ200x20H (normal height) |
| Work weight | Max. 1kg |
| Washing pressure | 0.6-0.8Mpa |
| Amount of detergent | Max 75L/min (pump capacity) |
| Tank capacity | 140L |
| Pump output power | 0.75kw |
| Heater output power | 6kw |
| Body external dimensions | W675 x D1210 x H1590 |
| Body weight | 145kg |
| Power consumption | AC200V x 3φ; 50/60Hz; 7KVA |
| Washing method | Water spray |
| Dewatering & drying method | Work rotation & air blow |
| Pump | Staged |
| Detergent temperature | Room temperature - 60°C |