Awards
Nakano Manufacturing's precision machining technique built up over years has been highly appreciated by public organizations.
We were awarded various prizes for our high-precision processing technology nurtured over about 70 years and social contribution activities including environmental efforts, which have been widely appreciated by public organizations including national and municipal government agencies and some chambers of commerce.
Main awards and accreditation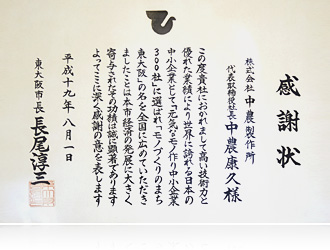 Vibrant Small and Medium Enterprises Selection 300
The Ministry of Economy, the Small and Medium Enterprise Agency, and government-affiliated financial institutions select from all corners of the country 300 small and medium enterprises which play an active role in manufacturing industry using their own sophisticated technology. We were awarded for our micron-order precision processing of thin-walled component and difficult-to-machine materials as well as our capability to respond to material procurement and related technologies such as heat treatment, surface treatment, and assembly.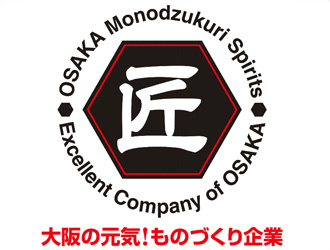 Osaka Monodzukuri Spirits Excellent Company of Osaka
An industrial organization in Osaka Prefecture chooses continuously growing companies with highly advanced unique technologies and superior products. We obtained the certification as a precision machining and assembly expert.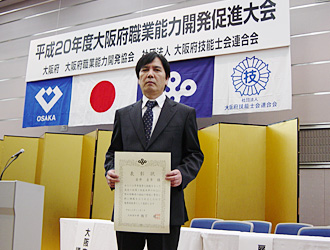 Naniwa no Meiko preeminent technicians award
Osaka Prefecture gives the award to extremely skilled persons in Osaka Prefecture. The Company's lathe engineer who had long been involved in machining work received the award.
The President's Award of
Higashiosaka Chamber of Commerce and Industry
We were awarded as an excellent company by the Higashiosaka Chamber of Commerce and Industry for our remarkable achievements through persistent efforts and management innovation.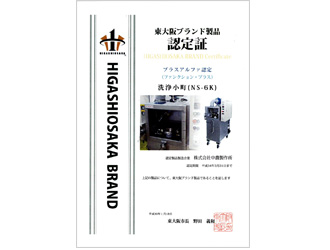 Higashiosaka Brand
Our compact-size parts washer, Senjo Komachi, was certified as one of the Higashiosaka Brand products which are excellent products created in Higashiosaka city.
Other awards
Testimonial from the General Contractors Association of Osaka
EcoAction 21 Testimonial from Institute for Promoting Sustainable Societies
Higashiosaka City Excellent Youth Employee Award
Testimonial from Higashiosaka City
Testimonial from Hannan University
Technology Awards
Grade 1 National Trade Skill Test & Certification: Mechanical and machining (Lathe)
Grade 2 National Trade Skill Test & Certification: Mechanical and machining (CNC lathe)