CSR
Social Contribution Activities
Contribute to the society through Open Factory such as plant tour and internship
We conduct Open Factory such as plant tour and internship on a regular basis to disseminate the appeal of manufacturing. We promote international exchange, such as invitation of customers overseas through public organizations.
Plant tour for economic organizations and elementary to high-school students
Over 9 years, 62 groups (total 805 visitors), mainly domestic and international economic organizations, participated in our plant tour. Since our production technology, human resource development, etc. have aroused great interest among visitors, we introduce our cases.

Also, we organize the plant tour to offer field trip opportunities for elementary, junior-high school, and high-school students. We design tour programs so that students see up close how to produce parts of automobile or other familiar items and experience the appeal of manufacturing.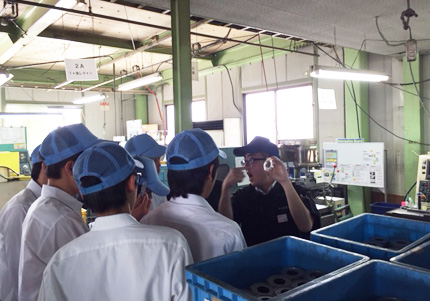 Internship for high-school and university students
We offer internship for high-school and university students. We create opportunity for them to build a concrete perspective on work and mindset as a business person through practical work experience and interaction with workers.