Scratch/burr-free processing and various activities for precision measurement to achieve a higher quality
We have been actively promoting a scratch/burr-free processing ahead of the industry. Dedicated expert engineering staff conduct thorough checks. Also, our production facilities are complete with various precision measuring instruments such as the latest coordinate measuring machine, form contour measuring instrument, and tool maker's microscope. We are always striving to produce high quality products by encouraging acquisition of qualifications such as quality control manager and enhancing measurement techniques.

Quality Improvement Activities
Scratch-free processing
We carefully handle products during the manufacturing/transportation phases to avoid any scratch on the products
Scratch-free processing of sealing surface of vacuum device parts, etc. which requires absolute air tightness is realized. We use specialized tools, control the coolant injection direction, optimizing programs, and controlling the chip-ejection direction to prevent interference with the sealing surface. At the production/transportation phases, we also pay deliberate attention. Furthermore, dedicated inspection staff conduct microscopic examinations to ensure 100% quality assurance for deliverables.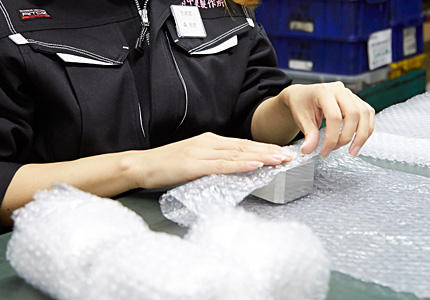 Burr-free processing
Dedicated expert staff conduct rigorous inspections. Severe check to remove any and all burrs
For a high-precision bulb and manifold of semiconductor production equipment, etc., we thoroughly remove burrs generated at cross-drilled holes using specialized tools we originally modified. Dedicated expert engineering staff to burr removal conduct thorough checks to ensure 100% burr-free products. Collaboration with the private sector and a university to study the burr-free processing and introduction of the cutting-edge burr removal know-how enables us to provide high quality deliverables, which eliminates the need for a check process by manufactures.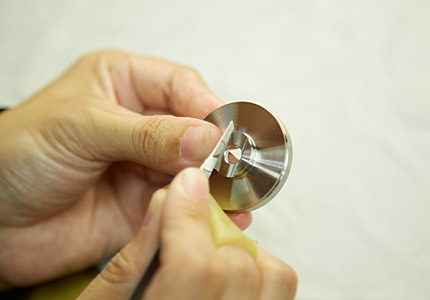 Precision measurement
We conduct various precision measurements in thermostatic chambers and pursue micron-order precision
The latest coordinate measuring machine realizes micron-order precision measurement. Also, we use thermostatic chambers exclusively for measurements to control room temperature within 22±2 ºC. In the measurement process, we place products in the thermostatic chambers for 24 hours to keep the temperature constant. At the same time, we control a product temperature properly using a highly accurate temperature sensor to limit thermal deformation. In this manner, we perform accurate dimension measurement.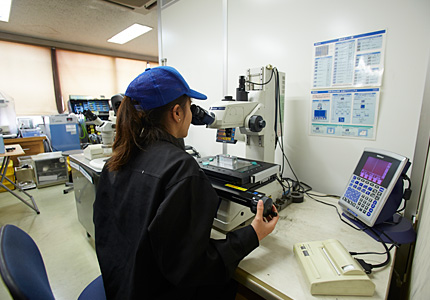 Staff awareness raising is carried out for all manufacturing processes. We pack the products one by one carefully before delivery to our customers
Regardless of the presence or absence of a scratch-free specification, we have raised our production staff awareness to ensure careful handling of every products in process. Also, we organized a strict check system at the final production line. If requested, products are packed carefully one by one after cleaning process and delivered to our customers.