Internal Activities
Nakano Techno School
We organize Nakano Techno School, one-on-one practical training instructed by WorldSkills Competition trainers at any time
We organize Nakano Techno School, one-on-one practical training instructed by WorldSkills Competition trainers, at any time to improve skill levels of production staff. We are promoting high quality manufacturing by polishing employees' skills and expertise and fostering an acute sense for manufacturing.
Strict training by using general purpose machines Further improvement of manufacturing techniques
For employees who want to pass the National Trade Skill Test, we conduct thorough technical training courses ranging from basic manufacturing with general purpose machines to master highly professional technical under the guidance of WorldSkills Competition trainers. By setting an environment to educate workers about the details of manufacturing technology in a systematic way, we are trying to reinforce technological abilities of the overall production department. It is also effective to motivate our production staff.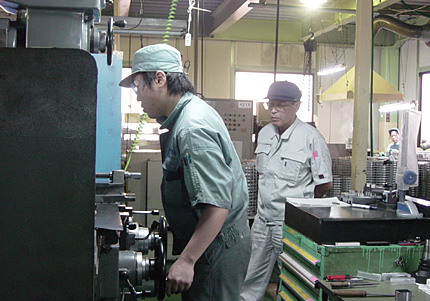 For lathes, milling machines, and surface grinding, we conduct practical technical trainings and encourage acquisition of qualifications
We support acquisition of qualifications such as Grade 1 National Trade Skill Certification in relevant fields through practical training courses on three fields: lathes, milling machines, and surface grinding which are linked directly to our business. We are making company-wide efforts to further improve the level of manufacturing technique.