Internal Activities
Kaizen activities
We conduct business improvement activities in all departments through proposal system to draw ideas from employees
We established a proposal system which gathers ideas from employees for business improvement. From production to sales departments, staff of all internal departments are voluntary trying to improve business efficiency and organize various projects to promote a conformable workplace environment.
Kaizen activities for production efficiency improvement such as layout change, 3S for cutter, etc.
We implement the Bomber activity to further improve production efficiency in the production department. In specific, we try to reduce the number of steps by changing facility layout as well as implement 3S for machining cutters used for drill, end mill, etc. Also, we standardized machining cutters and soft jaws of lathes, designated location of tips (Kanban system), and organize back plates according to the size and designated their location. By shortening the preparation time, we have realized a significant productivity improvement.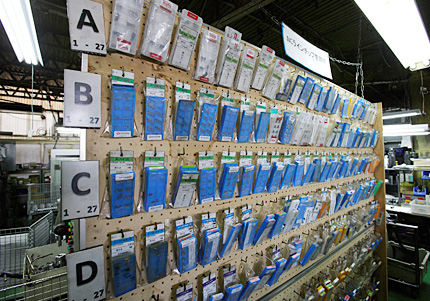 Voluntary 5S action in daily operations. Promotion for greening and beautification of plants
We are promoting a voluntary 5S action, Runner activity, in daily operations We routinely reduce scatter of chips during machining work, sort soft jaws of mass-production lathes, and remove items not being used. We will send customers materials on Kaizen on request. We also promote greening and beautification of plants to create a comfortable work environment.